Cat Vaccinations
One of the most importance aspects of owning a cat is ensuring it receives the necessary vaccinations. At Confederate Ridge Animal Hospital in Fredericksburg, VA, our team is dedicated to helping keep your cat happy and healthy. When you visit us, we will speak with you about your cat's medical history and determine which vaccines it may need.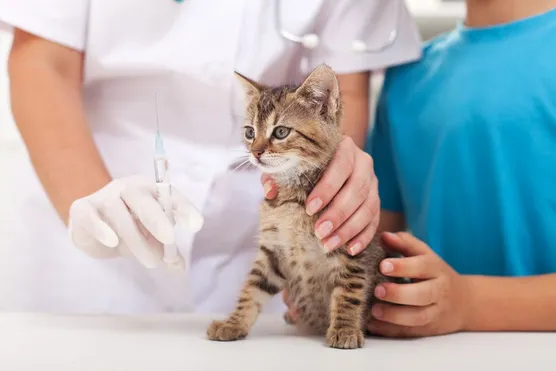 Importance of Vaccinations
Vaccinations are crucial for keeping your cat healthy. The vaccines can help prevent common diseases and illnesses that can cause serious medical problems or affect the lifespan of your cat. It's essential that your feline is vaccinated yearly to prevent any potential diseases.
Distemper and rabies can be a primary concern for pet owners when it comes to their cats. Distemper is a serious medical condition that can affect your feline's health. If left untreated, the condition can cause extreme discomfort and become worse. Your cat can also contract rabies from other animal if he or she is bitten or comes in close contact with an animal that may be infected.
Rabies can be common in some areas, so it is recommended that your cate is up to date on the vaccine for this condition in order to protect their health. If you're looking for a veterinarian that can provide you with quality services such as vaccinations, our team is here to help.
Preventative Care
Vaccination is an essential part of preventive care. Even young kittens need vaccinations to ensure they don't become ill with many conditions. Your cat's vaccinations are usually administered when they come in for an initial exam or during their yearly wellness checkup. It is important that your feline receives any needed vaccinations, as the vaccines can extend its lifespan and keep it healthy.
Contact us for Treatment Today
If you live in the Fredericksburg VA, area, we encourage you to contact us at (540) 373-6100 or stop by Confederate Ridge Animal Hospital today. We can help you schedule an exam that includes vaccinations and answer questions about our range of services or provide more details about the products we offer at our facility.
Whether your cat needs a routine visit, vaccinations, or dental care, our team is happy to assist. We are dedicated to helping your feline stay happy and healthy by offering the services and treatment they may need. Call our office today to learn more about our variety of treatments!